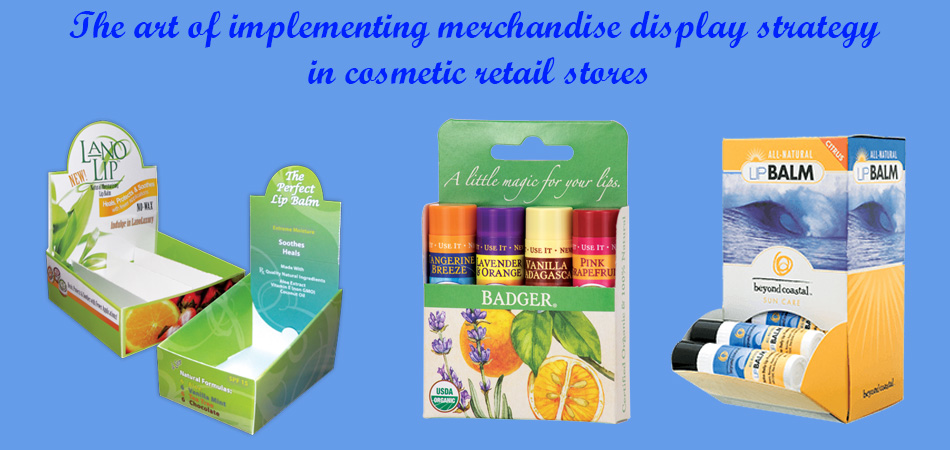 An excellent merchandise display strategy is vital for your brand in a retail setting. Cosmetic retail stores are becoming house to many cosmetic brands who are all putting their best foot forward when it comes to marketing and branding. To get retail space at a high-end cosmetic store (like Sephora, ULTA) you need to be extremely thorough with your display strategy.
What is the merchandise display strategy?
It is a common practice in the retail industry to organize merchandise in a way to attract, engage, and motivate customers towards buying the products.
Interactive display:
POP and POS display counters are used, in addition to regular shelf space for the products. These counters are designed to reflect the brand narrative using lighting, color, and, décor.
Example of NYX:
Take the example of NYX display counter at ULTA. The narrative of NYX is futuristic and its POP display reflects exactly that. Neon shades are used with interactive décor. An iPad is installed where customers can virtually try on lip colors and makeup.
Most cosmetic brands interactively design their display counters. Some common techniques are LED displays, personalized notes, and the option to mix colors and samples to create a personalized product (lip colors and foundations mostly).
The option to mix colors and samples is not practiced by many brands, as it can be expensive. LEDs and IPad are expensive too, especially when you're an indie or startup brand.
Therefore, the most inexpensive yet effective merchandise display strategy you're left with is using customized display boxes.
Custom display boxes:
Custom display boxes are a very important part of display counters of any cosmetic brand (be it high-end or drugstore). These are a branch of packaging that showcase the functional side of your products. You can optimize the display of cosmetics using customized display boxes to highlight their features and benefits.
Signage and images displayed over these boxes set the tone of the store environment and derive brand communication. Humans are attracted to well-organized spaces; they're more likely to pick your display counter if all the products are sorted/arranged neatly in their respective display boxes.
How a merchandise display strategy works:
This strategy is used for highly targeted marketing. The whole process revolves around making the experience more individualized and personalized for the customer. Display counters are tailored with precision to suit customers' needs and wants after carefully studying the buying behaviors and actions. Well-managed cosmetic display counters can triple your sales but remember that your designs must be intriguing and inviting. They serve the following purposes:
Launching a new product or trying to market an existing one, a display counter will do the job effectively by creating brand awareness among customers.
Display counters are excellent means to instill your brand and logo in customer's mind.
Most customers are loyal to a certain brand and they don't buy/use a new product. Display counters urge such customers to try out your product through the innovative and inviting merchandise display (which they never would've otherwise). If your product has potential, a display counter might win you a loyal customer for life.
POP vs POS displays:
Cosmetic display counters are of two types. POP (point of purchase) and POS (point of sale) counters.
POP (point of purchase displays):
These are the most effective way to launch a new brand or test a new marketing strategy.
These counters feature the products you want to put on the front of your brand.
Pop displays are larger and take on space at the actual store floor.
How to use POP displays for cosmetics:
Sort cosmetics in their respective display boxes categorically, for example:
Face cosmetics include foundations, concealers, setting powders, highlighters, contours, and blush-on.
Eyes cosmetics include eyelid primers, eye shadow palettes, eyeliners, kajal, mascara, eyelash primers, and false eyelashes.
Lips cosmetics include lip primers, lip liners, lipsticks, liquid lip colors, lip balms, and lip-glosses.
A POP counter assembly process doesn't always have to be extravagant and expensive, old school custom display boxes will get the job done if you're on a budget (regarding packaging and marketing).
Example of EOS lip balm counter at Sephora:
EOS is the globally leading brand of lip balm. Their custom product packaging (a sphere container) is their USP. It is an all-natural/organic brand. Their display counter at Sephora is a superb example of how merchandise display strategy should be executed. They have sorted their lip balms according to color and flavors. VIBGYOR is the pattern for colors in a rainbow and this is how they have arranged their custom lip balm display boxes.
POS (point of sale) display:
POS counters are smaller than POP displays.
They're established near the checkout counter instead of on the store floor.
These are mainly used to create brand awareness.
POS displays are set up to draw the customer to your POP display
POS displays can be both primary facing (described above) or secondary facing for your brand.
When the customer looks at your product over the POS display, they're more likely to retain your product information and on the next visit to the store, they're more likely to visit your POP display.
POS displays are usually used as secondary facing when brands launch a new product or are trying to give momentum to sales of an already existing product that is not doing so well.
Conclusion:
POP and POS display both help raise brand awareness and can be used as a marketing strategy. This doesn't mean that you only need to display your product on these. Your product must have space on the regular shelves and counters of the store as well. These displays are just to increase customer interaction and give more exposure to the brand. The key player in setting up a POP or POS display are customized display boxes.