Lip balms are also an important part of the makeup and especially in winter when lips get dry and cracked almost every person uses them. This is one of the major reason that lip balms are getting famous, every cosmetic brand has started introducing their products. We used to buy lip balms with two to three flavors but now that time has gone. Now you will notice every brand has its own lip balm collection. The unique marketing technique that every brand has been using to influence the audience and lure customers to buy their product is customized packaging. Most of the time when we wait for our billing at the store or market we see different products on the tabletop and sometimes we do buy those products. lip balm is one of the countertop items and to draw customer's attention you must use lip balm display boxes with attractive graphics.
How you can design your customized lip balm display boxes?
When it comes to customized packaging you will have many options but you have to be careful while designing the packaging for your product. Customers will remember you from your packaging so it is better to get the work done in a decent way. Here are a few suggestions and details for you to design your lip balm display boxes:
Loud colors/graphics/shape:
When you design your lip balm packaging you have to focus on the type of lip product you are introducing. Like if it is fruity lip balm then you must use loud and colorful details. You can add graphics according to the flavor of the lip balm. In this way, your product will look enticing and from the cover, the customer will judge its quality. The packaging has to be exact not to lose neither too tight because customers don't like products not packed with perfection. You have to order the shape and size according to the dimensions of your product for perfect finishing.  
Logo:
Every cosmetic brand uses its logo on the packaging just to look different and better than other brands. The attractive the logo more people will get attracted towards it. Try to design a logo that might contain the first letter of your name or any design you have in mind you look will look decent on the packaging. But remember most of the people keep remember the products they buy from its logo not from the name. So, it has to be dynamic so no one will forget it and never try to copy someone's logo or design yours similar to theirs because it will also confuse the customer and you might lose them.
Add-ons:
There is another option through which you can make your customized packaging a little more appealing. You will have an option of add-ons and in this foiling, embossing, UV work, die-cut just to make your packaging exception. It is better to pack each lip balm in small packaging and place all of them in a window cut display box so the customer will have a peak in the box to see the other packaging.   
Why using customized lip balm display boxes are a wise choice?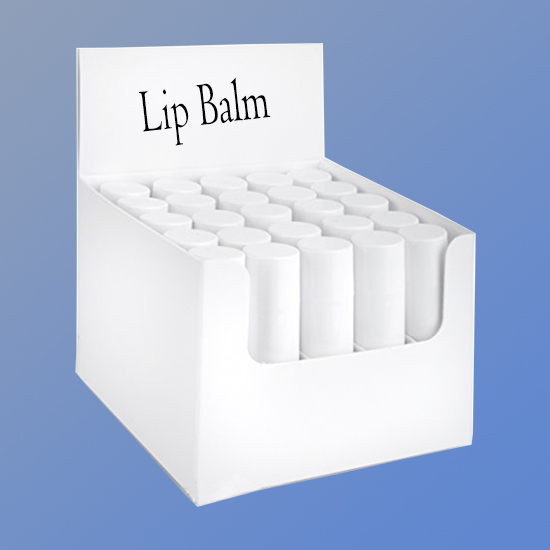 After knowing the facts that how you can design your lip balm display boxes now you will be thinking why you have to get customized packaging when you can place all the lips balm in ordinary ones? Here are some of the reasons why you must prefer custom packaging:
Affordable Packaging:
When you try something new, you have to careful with the expenses. Right now you are working on the lip balm project then try to minimize the product cost if it is in your will. The expense that you can't cut down is going to be the packaging but you can minimize it by using customized packaging. Custom packaging is mostly made up of Kraft material and it is not expensive much so in this way you can save packaging cost.
Economical marketing:
The customized packaging will help you in marketing your product, so you don't have to look for any marketing medium. If the packaging of your product is good enough and has all the important aspects of it that perfect packaging must have then this is enough to make your item famous than others in the same competition.  
Green packaging:
Customized packaging will be made up of Kraft material that we get from wood pulp so it is completely organic and biodegradable. In many countries, plastic packaging has gone banned due to environmental conditions. As plastic is not a biodegradable product and increases carbon footprint. Everyone is worried about the environment because it is getting polluted mostly by human activities. So, while using lip balm display boxes made up of Kraft material will help you in promoting your product as well as a noble cause of saving the environment and this might help you to boost up your sales. 
Customer's trust:
People like to invest in products that look branded and this is the approach every brand owner is using that they give their product a branded look with the help of customized packaging. with a nice, decent logo on the packaging will prove that the stuff you are selling is of high quality and that's how the customer will trust your product. If the quality of your product is good, then others then just put a little effort into the packaging to build a relation between your company and the consumer.   
The bottom line:
To sum up the topic of using customized packaging all you have to look for a company that will help you in promoting your product and boosting up the sales with their high-quality custom packaging.
For lip balm display boxes you can contact Gator Packaging Company because we already said get your work done from a trustworthy place that provides high-quality packaging services. They have everything we said above so you can trust them with your work.